Last week, the team from Metro Trains Melbourne (MTM) travelled 10,497 miles and we couldn't wait to welcome them to our new offices for an amazing networking event! All the way from their offices near St Patrick's Cathedral, Melbourne to ResoLex HQ by St Paul's Cathedral, London.
MTM are on a mission to recruit some amazing new talent to relocate and join them on some exciting projects in Victoria. Planning an event so far away can be difficult so we joined forces with Rail Media and NAWIC (National Association of Women in Construction) to help plan and execute the perfect networking and recruitment event.
Why did we become an event partner?
"Having worked with several of the MTM leadership team members in the UK, we were keen to support their international learning opportunities and foster international collaboration.
We joined MTM as their event partner as we know major projects worldwide require the same key elements to ensure success; technical competence, commercial competence and what we term social competence. Metro Trains Melbourne are offering the opportunity for project professionals to share learning from Crossrail and HS2 (High Speed 2) to this exciting urban transport project 'Victoria's Big Build'.
We are particularly interested in the impact of the alliance agreement, preferred in Australia when it comes to creating the integration required for successfully deploying the rail systems. 
Therefore we were delighted to meet Pete Gleeson, Executive Director, and catch up with Jamie Burns and Lisa Hogben when they said they were coming to the UK on a learning mission and support their offering of opportunities to those who fancy the adventure of relocating to work with Metro".
Edward Moore, Chief Exec. at ResoLex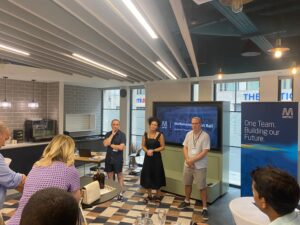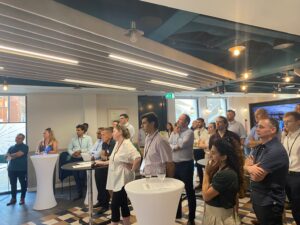 The event was a great success for MTM and those interested in relocating! We are keen to support like-minded organisations in major projects who are working to build diverse and collaborative teams. We caught up with Lisa Hogben, Package Director at Metro Trains Melbourne for some feedback on the event and here's what she had to say:
Having worked with ResoLex in the past, enjoyed their innovative and creative professional development events and seeing how they live their values of insight, creativity, and partnership, I knew they were the right partners for our UK networking event.


To me, the essence of true collaboration is doing things for others even if there's no immediate benefit to you, and ResoLex models that essence.


We're so thankful that ResoLex agreed to be our event partners, and we definitely owe them one!
We would like to thank everyone involved and wish those relocating every success in an industry close to our hearts! Get in touch if you would like to see how we can help your project team.