With guest speaker Rose McArthur, Director of Transport and Highways for Cheshire West and Chester Council and facilitated by Kelachi Amadi-Echendu, ResoLex
Kelachi opened the session with some background on ResoLex, explaining one of our underlying observations; projects rely on a triumvirate of competencies, technical, commercial and social. To set the landscape further, she highlighted a general challenge for lack of skills within the infrastructure sector. The skills problems begins at a high-level, so we have a technical challenge in areas such as climate change, as well as the economic challenges that organisations are wrestling with in a post-pandemic environment. The social component of major projects mentioned earlier encompasses these leadership challenges. The theme of the session was therefore to consider how we can bring people-oriented skills into the industry from other sectors whilst still appreciating the technical skills with career developments that aren't necessarily leadership.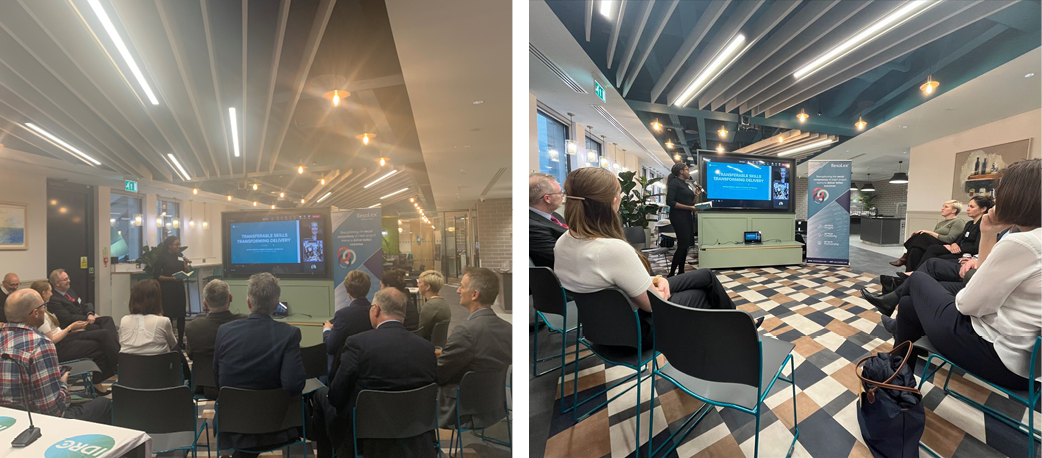 Rose started her presentation by talking about her own journey from being a Senior Consultant in a large engineering company, to a very different role in a local authority. Her background in integrated transport planning gave her the opportunity to work on huge projects such as the 2012 London Olympics, keeping people moving despite the challenge with an influx of people.
In her new role, she now has to focus on the practical problems within the highway sector exemplified by issues such as potholes, gulleys and pigeons. Many of the problems are much smaller in scale but there are huge amounts of them. Although Rose has a Director role and needs to strategically plan for the council's transport and highways, many public enquiries are escalated to her due to a lack of communication from the project level and out to the local community.
Cheshire highways are a £5 billion asset, so there are many miles of road infrastructure that must be managed within very tight financial constraints. Rose made the point however that her biggest challenge is actually the people – as is the case in many engineering-focused teams, the historic basis for promotion is time served and technical expertise. Little concern has ever been paid to the skills of being customer focused and focusing strategically on future needs. All too often teams within the organisation have a silo mindset, and it is therefore difficult to get them to engage in new concepts outside of their core areas of expertise. So when it comes to management skills, technical competency is probably only around 25% of what is needed. Instead, there is a critical need for skills in communication, people management, delivering change, and the ability to engage a wider stakeholder group. Of course, some people with these technical skills may thrive in leadership and management roles but only with the right effort put into training – these important skills need development and training.
In developing her teams, Rose has found that she must therefore expand her search horizons when looking for new recruits. For example, she believes that change starts with the data-led approach, so the ability to analyse and communicate trends and issues is critical. She is also seeking people who have effective communication skills so that stakeholder relationships can be managed more effectively. More often than not, she has to go outside of the organisation to look for people in other sectors and industries to get the less technical but more strategic types of people to therefore reach the balanced team she requires.
Thoughts and observations from the floor included the following:
An example was given of the huge value provided by somebody who had a passion for the environment but who originally came from a role in finance.
Bringing in new skills and perspectives is important, but to be successful organisations need to be ready for the disruption they may cause. For example, construction firms are often not comfortable with people who are trying to push a different way of thinking.
Leadership is critical in changing mindsets and behaviours. An example was given from a major programme where one of the senior leaders attended the sustainability group which significantly boosted attendance and output.
There is a distinct leadership skill set around managing complexity and ambiguity.
Creating resilient teams is one of the keys to survival in the 21st century, where leaders surround themselves with people who support each other in pursuit of a common goal.
The underlying message from the session is that in organisations that need to change, there needs to be a shift in the types of skills and competencies that may not be present in the current structure. The technical element which used to be dominant in many engineering-oriented businesses are still important, but at leadership, the level must often be subordinated to the ability to manage the problems created by complexity, scale and pressure on resources. The challenge for all organisations involved in infrastructure is to identify the different skills needed and create an environment which will encourage bright people to come and join them.