ResoLex is an independent consultancy specialising in collaborative working, risk monitoring, and stakeholder engagement. We see projects comprising of three primary areas of expertise; technical, commercial, and social. The social element is often ignored by project leaders or allowed to drift to the periphery of project activity. We work with project teams across several industries, using a combination of behavioural theory, technology, and industry experience to co-create new solutions that help them work better together – resulting in more efficient and sustainable projects.
In December 2020, the Government released 'The Construction Playbook' in a bid to transform how major projects and programmes are assessed, procured, and delivered. This is part of a wider goal to make construction a world-class sector by improving productivity, providing jobs, and achieving net-zero greenhouse gas emissions by 2050. Based on our research into team performance and our experiences in supporting teams engaged in the design and construction process, we released 'Changing Behaviours in Construction: A complement to the Construction Playbook'. The report is intended to act as a supplement to the Construction Playbook, providing those tasked with implementing the new procedures with some practical advice on how to create and then lead strong project teams.
For Digital Construction Week 2021 our Consultant, Kelachi Amadi-Echendu and Associate, Karen Fugle (also Executive Coach at SleepingGiant Consulting) will be highlighting our 'Top Five Suggestions for Improving Project Performance through Collaborative Behaviours' in the 'People & Change' theatre at 4pm on day two, the 25th of November.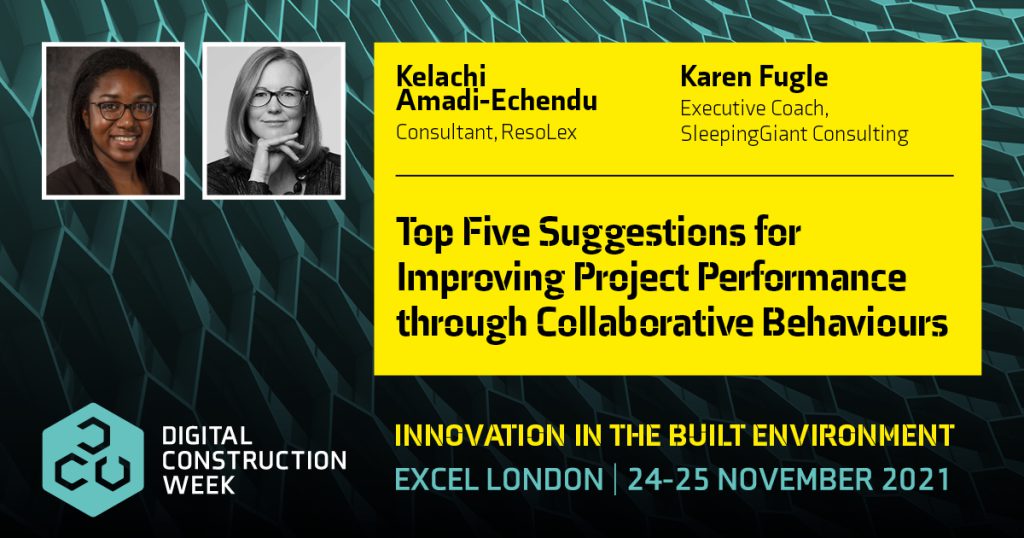 The full details can be found on the Digital Construction Week website here.
As a teaser, here are the areas we will be discussing during the talk that will help provide you and your teams with practical guidance and tools that can be applied to the industry challenges highlighted throughout.
Front-end loading
Selecting the right Team Leaders
Measuring cultural development
Aligning to a common goal
Adjusting the mindset of conflict avoidance
If you're intrigued, pop along to our talk or email us ([email protected]) to arrange a chat on the day. We look forward to seeing you at Digital Construction Week! For more information on our services please visit our website: www.resolex.com.