Last week, we were delighted to welcome three guest speakers from Jacobs to the ResoLex Roundtable: Jessica Ellery, Gail Hunter, and Joshua Weatherley. Jacobs is a full-spectrum professional services firm including consulting, technical, scientific and project delivery with a workforce of about 60,000 people worldwide.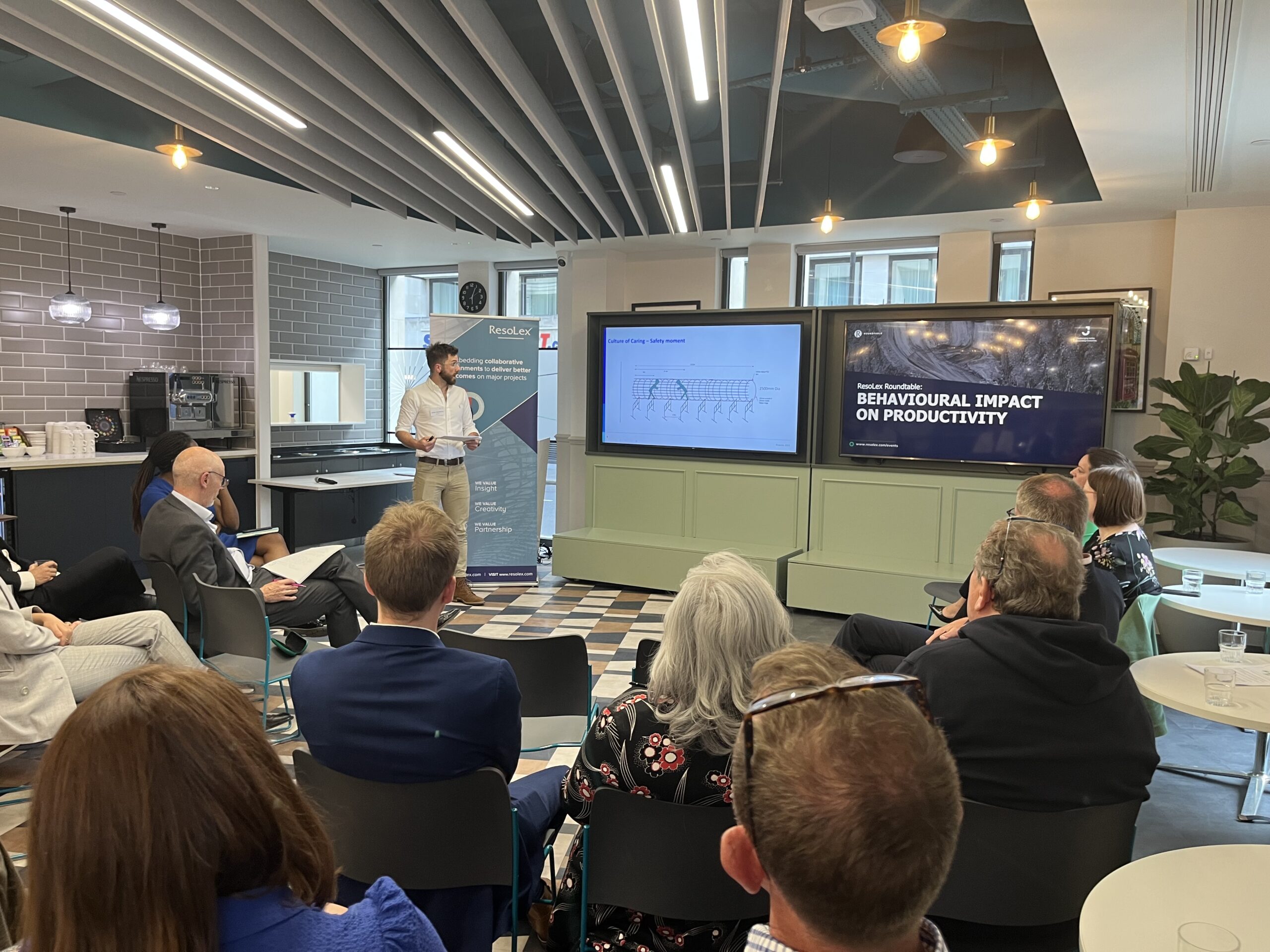 The evening was introduced by our Associate Director, Kelachi Amadi-Echendu, who provided some background to the ResoLex Roundtables and how the event links with our values as a business. Our Chief Executive, Edward Moore then introduced the topic, reminding us that whilst collaboration in itself may be very nice, if it doesn't improve productivity, one has to question the point! At ResoLex, we see projects as comprising three primary areas of expertise: technical, commercial, and social. We believe that the key elements are interlinked, and the social component is inextricably linked to project performance. During the session, Ed highlighted our model, and expanded on the need to take an integrated approach to the three elements in order to achieve project success.
Jess, Josh and Gail explored the topic through the lens of a live giga project that is in its early stages of delivery in Saudi Arabia. A perspective offered was that perhaps the scale and longevity of such programs offered the chance to truly embed an effective, collaborative social system, even more so than the opportunity we have in the mega-project environment. The presentation began with a poignant safety moment, and then an introduction to four immense projects in the Neom region of Saudi Arabia. Each of these projects are hugely ambitious, the most dramatic being The Line. The Line is a revolution for urban living, which according to the plans will be 500m tall, 200 meters wide and a staggering 170km in length. Whilst a project of this scale is fascinating in itself, the evening's platform served as the backdrop to a much broader discussion around the challenges of working in such a complex programme environment. Throughout the session, Josh and Gail prompted the audience with a range of engaging questions and themes designed to stimulate debate (a dangerous thing to do with a ResoLex audience!).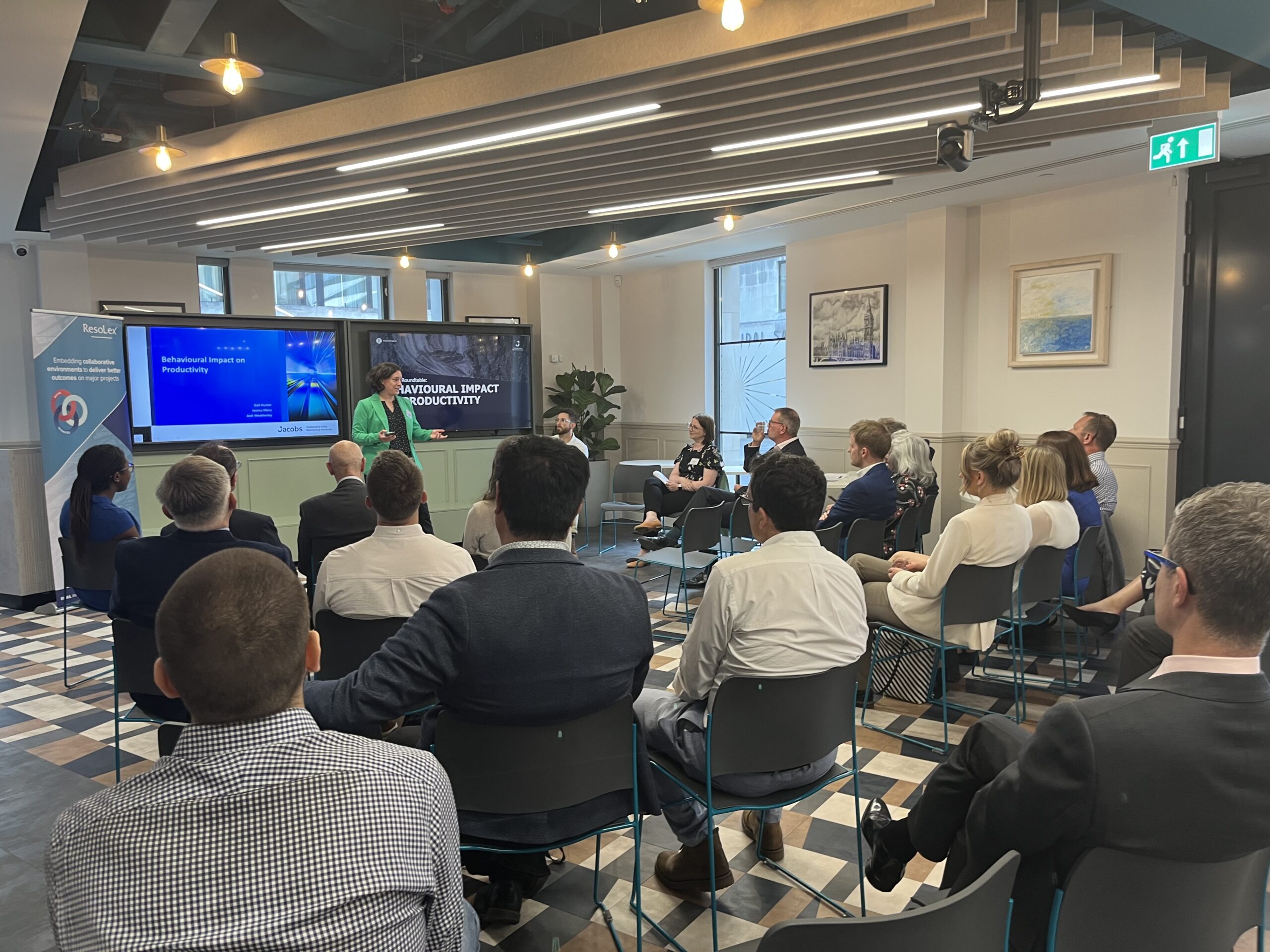 The presentation identified the challenges created by the multiple interfaces that must be managed by the teams and explained that this becomes exponentially more difficult to cope with as size and scale increase, supporting the initial introduction and highlighting the need to therefore factor in behaviours when setting the project strategy. This stimulated a lengthy discussion in the room around the more nebulous concepts of leadership and project culture, there was a common agreement that paying attention to these areas early in the programme is a critical success factor. It was also noted that one of the reasons for the poor performance of mega projects, in general, is the lack of ability for many project leaders to scale up from large projects, and when faced with high levels of complexity, they tend to fall back on simplistic solutions which inevitably fail in more complex and challenging environments.
So, what are the conclusions from the evening's discussion? Here are our top five takeaways:
There is a need to 'operationalise' collaborative intent. In other words, major projects (and especially giga projects) need to focus on establishing the policies and processes that will embed the principles of collaborative ways of working throughout the programme, rather than limiting the discussion to senior management.
Focus on the active steps needed to build a positive culture, avoiding the default tendency to revert to transactional behaviours as soon as the project comes under pressure.
The risk management process needs to acknowledge behavioural risk and recognise that effective inter-team relationships are both a risk and an opportunity.
Relationship management plans should be a compulsory part of the early planning process and should focus on identifying the critical interfaces that need to be mapped and managed.
Project leaders need to be trained specifically in the practical tools and techniques that will enable them to make the right decisions when working in highly ambiguous and complex environments.
The session closed with reference to the work of Edgar Schein, and his observation that for successful teams, people need to build 'Level 2 relationships' with their colleagues. This level of relationship is where we know enough about the people we work with on a regular basis to be able to see them as human beings, rather than just human 'resources', who carry out a functional role.
Overall, it was another stimulating and educational evening, with a wide range of views and opinions. As we see projects and programmes becoming ever more ambitious in their scale and desired outcome, the session is a reminder (should we need it!) that planning, setting up and mobilising for success from the start makes life considerably easier for the teams trying to deliver downstream.
If you'd like to join our next Roundtable, please keep an eye on our events page or sign up for our LinkedIn events newsletter.